By ESG Analyst Cameron Toy Kluger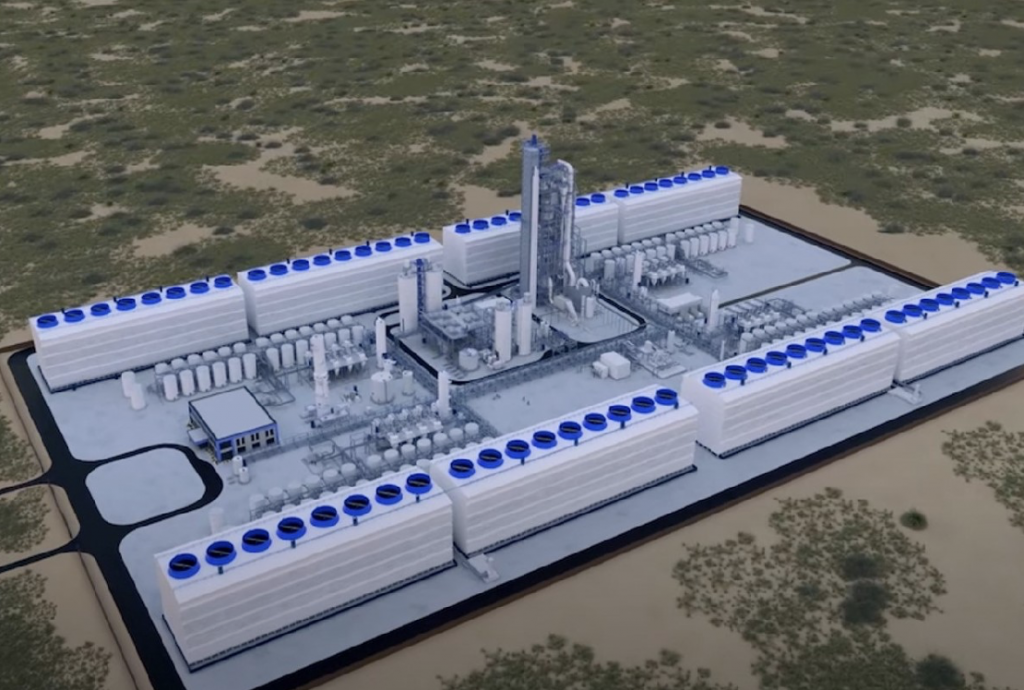 A CAD model of Occidental's Stratos carbon capture facility | via EnergyNow
BlackRock, the largest asset management firm in the world, announced a $550M investment into the Occidental Petroleum Corporation's Stratos carbon capture project in early November. The investment is one of the largest of its kind, representing 40% of Occidental's $1.3B project budget which seeks to become operational in mid-2025. While the move proves to be a significant step toward decarbonization, concerns arise surrounding the validity of carbon capture technology.
Stratos intends to become the largest Direct Air Capture (DAC) facility in the world and is located in Ector County, Texas. DAC works by extracting carbon dioxide directly from the atmosphere instead of at any source of emission (such as a coal plant). Air is drawn in via fans, which filter out CO2 through a series of chemical processes, eventually delivering the pure gas to be stored deep underground. At full capacity, Stratos will be able to capture up to 500,000 tonnes of carbon from the atmosphere each year, roughly equaling the emissions of one million barrels of oil.
While the Stratos project provides a promising option for a decarbonized future, it's important to note what Occidental is at its core: an oil giant. Occidental's primary business function is oil extraction, where it operates primarily in the United States, the Middle East, and Colombia. As of 2021, Occidental extracted 3,512,000 barrels of oil per day, the equivalent of three years' worth of DAC by Stratos. In 2017, the company was ranked the 55th highest greenhouse gas emitting company in the world, and the corporation has previously been tied up in several lobbying and greenwashing scandals. Still, Occidental has promised to reach Net Zero by 2050 and has invested heavily in expanding renewable energy, sustainable materials, and ESG initiatives.
A common criticism levied at DAC is that it provides no incentive to ramp down on fossil fuel usage. The Stratos project plans to auction 90% of its captured CO2 in the form of "carbon credits," purchased by large corporations to offset their emissions. Companies who purchase the credits find them much less expensive than reducing carbon dioxide from the source, leading them to ramp up their fossil fuel usage and pay off the difference.
DAC is by far the most expensive and inefficient method of carbon capture, as CO2 in the atmosphere is almost infinitely more dilute than carbon from a power plant or manufacturing facility. Even upon capture, long-term storage solutions of carbon are still scientifically unproven and somewhat risky. To the disdain of environmentalists, Occidental has also regressively laid out plans to inject CO2 back into old fossil fuel reserves to produce more crude oil.
Larry Fink, CEO of BlackRock, hailed Stratos as 'an incredible investment opportunity' and a future 'multibillion-dollar success story.' However, it is likely that DAC may just be another way for companies to continue their business-as-usual emissions while claiming carbon neutrality from a balance sheet. As more companies lay out ambitious plans for decarbonization and carbon neutrality, it seems inevitable that greenwashing will follow.
Additional links:
https://www.advratings.com/top-asset-management-firms
https://energynow.ca/2023/11/blackrock-invests-550-million-in-occidental-carboncapture/
https://www.upstreamonline.com/energy-transition/blackrock-backs-occidental-dri ve-for-worlds-largest-direct-air-carbon-capture-facility/2-1-1550647
https://www.esgtoday.com/blackrock-invests-550-million-in-worlds-largest-dac-car bon-capture-project/
https://carbonengineering.com/our-technology/ https://www.oxy.com/
https://www.iea.org/energy-system/carbon-capture-utilisation-and-storage/direct-ai r-capture